Here is a look at what happened in the Yukon Legislative Assembly this week.
Investing in affordable housing
This week Housing Minister Ranj Pillai announced funding for eight more shovel-ready, affordable housing projects, as part of the fourth intake of the Housing Initiatives Fund. The selected projects will support 102 new affordable housing units in Dawson City, Teslin, Watson Lake, Lake Laberge, and Whitehorse. Additional funding is being provided to support four project development concepts brought forth by applicants. This increase in housing units will help Yukoners to access affordable housing through the private market, through First Nations housing providers, and through community organizations. This is just one way the Liberal government is working to address housing demand in the territory.
Find out more about the Housing Initiatives Fund here: https://yukon.ca/en/news/housing-initiatives-fund-supports-eight-new-affordable-housing-projects
Electoral Reform
On Wednesday, MLAs debated a motion put forward by Minister Tracy-Anne McPhee to establish a Special Committee on Electoral Reform.
The Special Committee would be an all-party committee – one member chosen by the leader of each of the three parties – that would examine electoral reform, engage Yukoners and report back to the Legislative Assembly by March 31st, 2022.
This was a campaign commitment that we made to Yukoners and we believe it is important work.
We are committed to having a conversation with Yukoners about reforming our electoral system.
Do they want it to be changed and if so, what system would better represent their voice?
Thanks to support from the Yukon New Democratic Party, the motion passed.
It was disappointing to see The Yukon Party vote against having a conversation with Yukoners about electoral reform.
This was especially disappointing because it is an opportunity for all three parties to work together to find out what Yukoners want when it comes to the electoral system, and how to make it better.
We are open and willing to working with the other two parties going forward but it is important that no one party dictate the terms of this conversation.
Our Liberal team believes that this can only be done in conversation with Yukoners.
This all-party committee will now examine electoral reform, engage Yukoners and report back to the Legislative Assembly by Mar. 31, 2022.
We are excited to deliver on this campaign commitment and we look forward to hearing from Yukoners as we continue onwards.
Great Yukon Summer and National Tourism Week
"This is the summer to do that dream trip in the Yukon you have always wanted to do."
Grab your paddles, your hiking boots, your mountain bikes and your bear spray! Browse flight schedules within the territory or fill up the gas tank and hit the road! Mark those local historical spots or museums you've never had an excuse to go explore. Mark one of those challenging trails you've been putting off…
It's time for the Great Yukon Summer!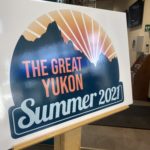 With this week being National Tourism Week, it was also perfect timing to announce more details on the Great Yukon Summer Campaign, another election commitment now in action.
"This campaign will encourage and inspire Yukon residents to travel safely throughout the Yukon and enjoy all our territory has to offer this summer. Residents travelling within the Yukon will help generate much-needed revenue for Yukon businesses in the travel and hospitality industries as well as our museums and cultural centres and sites – all of which have been hit hard by COVID-19 impacts," said Minister of Tourism and Culture Ranj Pillai. "This is the summer to do that dream trip in the Yukon you have always wanted to do."
A total of $500,000 in new funding is now available for festivals, events and other summer activities across the territory to entertain Yukoners.
A 25% rebate will also be available to Yukoners for packaged tourism experiences between June 4 and September 30, 2021.
Plus, all Yukon tourism businesses and operators who provide a package for this Great Yukon Summer Yukoner Travel Rebate program are eligible to receive up to $2,000 to go towards advertising creative from a Yukon marketing professional or publication to promote their package.
Find more details here: https://yukon.ca/en/news/2021-year-great-yukon-summer .
You can also watch the full tribute to National Tourism Week on the Yukon Legislative Assembly's Facebook page here: https://www.facebook.com/yukonlegislativeassembly