As the fall sitting of the Legislative Assembly continues, we wrap up some of the biggest happenings and announcements.
New airport in Yukon: Mayo aerodrome certified
Our Liberal Caucus is thrilled to see the Mayo Airport officially certified.
This fiscal year, the Yukon government is spending approximately $3.2 Million on this project. Thanks to that investment, the airport is now certified for day use, which will provide much needed support to area residents and businesses.
Over the next year, runway lights will be installed, leading to certification for night use.
Along with upgrades at the Whitehorse International Airport and Dawson Airport, aviation infrastructure is seeing a major improvement throughout the territory under this Liberal government. We commend that!
Our Liberal government is committed to making strategic investments to build healthy, vibrant, sustainable communities across the territory. We are making great progress toward a diverse, growing economy that provides good jobs for Yukoners in an environmentally sustainable way. An important aspect of our work is upgrading Yukon's aging infrastructure to prepare for a prosperous future. Today, I am pleased to announce that Yukon has a new airport. On November 1, 2019, Transport Canada certified Mayo. This certification will allow the Mayo airport to support scheduled service on a long-term basis in anticipation of continued resource development in the region.

an excerpt of Minister of Highways and Public Works Richard Mostyn's statement in the Legislative Assembly
MADD Red Ribbon Launch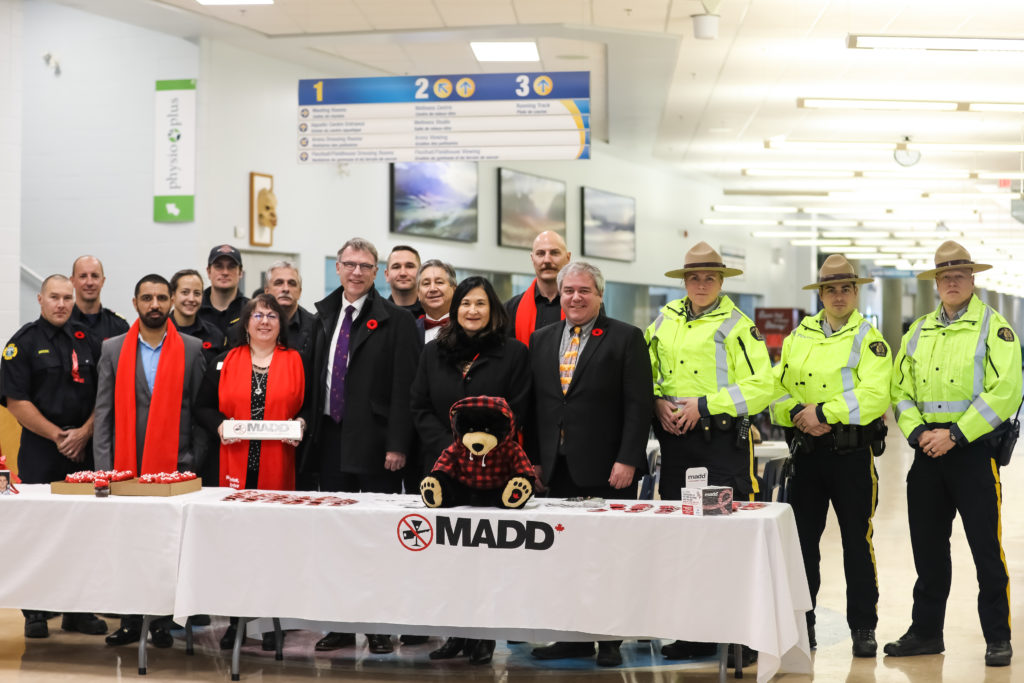 Impaired driving offences are unfortunately increasing in our territory. Whether this is because of enhanced RCMP checks or more impaired driving, all Yukoners share the goal of bringing that number down.
Our Liberal Caucus supports Mothers Against Drunk Driving and the launch this week of their Red Ribbons initiative, which promotes sober driving and remembrance of those we have tragically lost.
Please plan ahead for safe transportation home before going out to consume alcohol or cannabis.
Since 2014, the rates of impaired driving in the territory have risen to more than five times the national rate. In 2016, there were 328 Criminal Code violations for impaired driving in the Yukon. In 2017, that number shot up to 484. Last year, that number increased again to 540. These statistics should stop us cold. In fact, they are a call to action. We have a lot of work to do. People must remember that impaired driving is a fully preventable crime and every life that is lost or changed by impaired driving affects all of us. Highways and Public Works continues to work with MADD, the RCMP, the Yukon Liquor Corporation, and other stakeholders within the territory and across the country to reduce the number of impaired drivers on our roads. Road safety is everyone's business and everyone's responsibility.

Minister of Highways and Public Works Richard Mostyn
Tribute to the late Bruce Underhill
Minister of Community Services John Streicker rose in the Legislative Assembly to pay tribute to the late Bruce Underhill, a Yukon icon in land surveying.
All of Bruce's colleagues will attest today, though, that he tackled his work with integrity, dedication, and good humour. Bruce was expected to toil and succeed on the toughest, remotest, and most difficult projects the firm had to offer. No matter the job, Bruce's performance was exceptional. So, it is no surprise that he became a leader at Underhill and in his field in general. He managed and grew Underhill's Whitehorse office to the largest land survey company north of 60, guiding surveys across the Yukon while also contributing significantly to the firm's many land claim surveys across all three territories. In the words of his long-time colleague, Tim Koepke — and I quote: "One would be hard-pressed to find a Canada Lands Surveyor who has made such an extensive and valuable contribution to the profession and to the improvement of our practices in the ever-changing modernization, designed to better serve our clients, government and the public interest."

an excerpt of Minister of Community Services John Streicker's tribute to Bruce Underhill
Sarah Oullette is Yukon's Farmer of the Year
The Yukon government announced Sarah Oullette as the territory's Farmer of the Year.
Operator of Sarah's Harvest, Oullette was recognized for her professional, highly skilled operation that contributes to Yukoners' knowledge and appreciation of agriculture, as well as producing amazing food.
Sarah Ouellette is a perfect example of a farmer who shows the commitment and passion for agriculture in Yukon and we can not think of a better person to honour with Farmer of the Year. Her production is well-planned and well-suited to her climate and soil conditions. Her extensive community involvement and enthusiasm have brought a great appreciation of Yukon farming and incredible local food to many Yukon children and households.

Minister of Energy, Mines and Resources Ranj Pillai
Turning a profit on pot
Yukon has turned out to be a model example in Canada for the implementation of legal cannabis.
After closing the government-run pot store earlier in October – as promised, exactly one year since its opening – Minister of Community Services John Streicker announced that the store has put roughly $200,000 in the government's coffers.
Our Liberal Caucus congratulates the government on its efficient management of cannabis in Yukon, and we are excited to see the private sector continue to grow.
On October 17, when I rose in this House to discuss the closure and plan to sell the Cannabis Yukon retail store and/or its assets, the Member for Kluane asked — and I quote: "When you include all the start-up costs, all the renovation costs, and all the overhead, how much money has the government lost in its venture into cannabis retail?" Mr. Speaker, I am happy to report that the answer to this question is none. A few weeks ago, we announced the release of a tender for the Cannabis Yukon retail store assets. The tender is now closed, and I am happy to announce that the Yukon Liquor Corporation has accepted a proposal and deposit for the store assets. The sale, once completed, will recoup $200,000, which will be returned to the Government of Yukon general revenue. The purchaser of the store assets is currently negotiating a new lease with the landlord, and once in place, the transfer of assets will be completed.

an excerpt of Minister of Community Services John Streicker's statement in the Legislative Assembly
YuDriv to enhance government's vehicle services
Our Liberal Caucus is pleased to see the Yukon government continuing to modernize its services, this time with the announcement of the launch of YuDriv, a new streamlined vehicle registration and driver licensing system.
Our Liberal government is committed to modernizing government legislation, programs, and services to meet the needs of Yukoners in the 21st century. As Yukoners know, we have updated many pieces of legislation to reflect contemporary standards and to make them inclusive of all Yukoners. We also continue to improve our program and service delivery to improve the lives of Yukoners. We are digitizing our land titles system to overcome the slow and cumbersome paper system used here for decades. Earlier this year, we launched our open data portal, an online repository of information that puts more government information in the hands of citizens to support openness, transparency, and economic diversification in the innovation, knowledge, and IT sectors. These are just some examples, Mr. Speaker, and this week, we announced another initiative to modernize our operations.

an excerpt of Minister of Highways and Public Works Richard Mostyn's statement in the Legislative Assembly
YuDriv will provide a more stable system and better privacy protection, and it lays the groundwork for future online services. A number of vehicle-related services are already available online, such as vehicle registration renewal.
Once it is fully implemented, Yukoners will have secure access to a wider range of vehicle driver's licensing and permitting transactions online. In order to be consistent with the new Access to Information and Protection of Privacy Act, another example of our modernization efforts, YuDriv offers enhanced safeguards to ensure that Yukoners' personal information is protected and is not improperly stored, accessed or shared.
Flu season is here
Finally, remember to help increase our herd immunity and get your flu shot this season. Even if you don't fear the flu for yourself, consider getting the shot to help protect your elderly loved ones or children, to whom you could still pass on the virus and whose immune systems are not as strong.
To get vaccinated, find a flu clinic in your Yukon community. The full overview is available online: yukonimmunization.ca/flu