A lot of eyes were on federal politics this week, but there were plenty of important issues that came up in the Legislative Assembly. Get caught up on efforts to make government more efficient while supporting the private sector, a new retrofit loan program that's being developed, debate on a new Liquor Act, changes to the Corrections Act and more.
Supply Services Branch to close
The Yukon Government committed to getting out of the business of doing business, as well as supporting hard-working Yukoners through their careers and lives.
To that end, Highways and Public Works Minister Richard Mostyn announced a new streamlined delivery of printing, storage and distribution services that will provide new opportunities for local businesses.
As part of this modernization of services, the Queen's Printer Agency will now focus exclusively on sensitive material such as budget documents instead of the wide range of government printing services that it currently offers. Additionally, Central Stores, which is currently responsible for stocking and distributing government stationery, cleaning supplies, and other things, will close and those services will shift to the private sector.
Our Liberal Caucus was pleased to hear that the government ensured no employees will lose their jobs as a result of this transition. Employees of both organizations will find new roles with the help of the Yukon Employees' Union, and the changes are expected to save the government $1.6 million per year.
The Yukon Chamber fully supports the decision of your ministry with regard to the Queen's Printer Agency and, coming on the heels of other Yukon Government announcements, such as the privatization of Cannabis Sales, we view these announcements as a heartening trend in the right direction.

Yukon Chamber of Commerce President Peter Turner
The Official Opposition and Third Party immediately tried to create a narrative that the government was cutting jobs, which is simply not true. There are no job losses associated with these moves, and there are none coming. This transition will also provide private sector businesses with opportunities and new contracts. This is a balanced approach that finds savings in the government while ensuring workers are looked after and nobody is out of a job.
Second Reading of the Liquor Act
John Streicker, Minister responsible for the Yukon Liquor Corporation, addressed the second reading of the proposed new Liquor Act this week. The Bill would bring in socially responsible changes to consumption in the territory while providing economic opportunities for Yukoners.
The new bill is an opportunity to bring forward changes that embed and reinforce social responsibility as a key element throughout the liquor regime in recognition that all of us have a responsibility to help reduce alcohol-related harms

John Streicker, minister responsible for the Yukon Liquor Corporation
The Act mirrors Yukon's current cannabis legislation. The policies and regulations included in the Act detail advertising expectations, relevant considerations for licence applicants, and conditions to each type of licence. At the same time, the Act will reduce the number of licences from 13 types down to five. Learn more about what the government heard from Yukoners about the modernized Bill here.
Small Business Week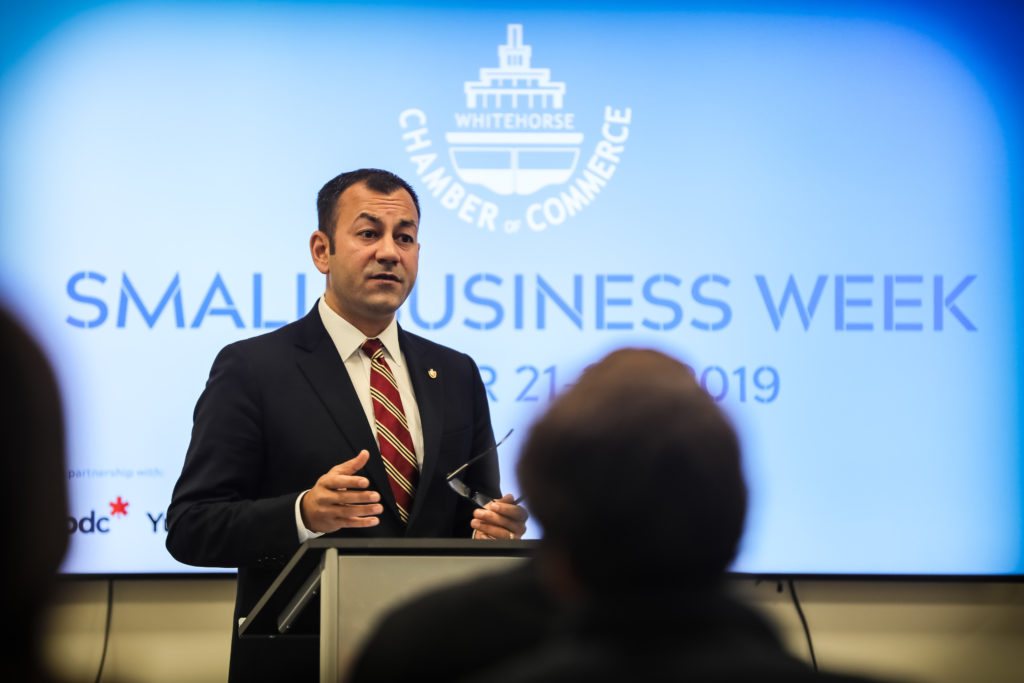 On the heels of the announcement of a $2 million contribution to support the Yukon First Nation Investment Corporation's $5 million investment in Panache Ventures Investment Fund Limited, Minister of Economic Development Ranj Pillai opened Small Business Week with a tribute in the Legislative Assembly and keynote at the Whitehorse Chamber of Commerce.
The Canadian Federation of Independent Business recently ranked Whitehorse as the top city for entrepreneurship in Canada, but our communities are also seeing a growing number of small businesses popping up. Entrepreneurs are wellrepresented in our thriving business community, and their businesses are making significant contributions to diversifying our growing economy. In addition to economic growth, they are instrumental in building vibrant communities where fellow Yukoners have access to an increasing variety of innovative products and services.

Minister of Economic Development Ranj Pillai
This week, Yukon's own Proof Data Technology won Start Up Canada's National Innovation Award and the Wayfarer Oyster House was named as one of Canada's best restaurants by Air Canada.
Earlier this year at the 2019 Startup Canada Awards, several Yukon companies were recognized, including Make IT Solutions, Proof, Antoinette Greenoliph, Charlie Fidler and Outpost 31 co-founders Jaden Soroka, Dave Hamelin and Neil MacDonald. Our Liberal Caucus congratulates all the local winners. It's wonderful to see these northern entrepreneurs and innovators recognized for demonstrating excellence.
Additionally, it has officially been a year in the books for NorthLight Innovation, Canada's first innovation hub north of 60. We look forward to the continued growth and development of our entrepreneurial ecosystem.
Second Reading of the Corrections Act
It was a week for second readings, and the Corrections Act is coming with some significant changes, including rules around segregated confinement.
Evidence has shown that extended periods of confinement absent of meaningful human interaction can have negative impacts — and in fact do have negative impacts — on an individual's mental health and overall well-being. Canadian jurisdictions have been, in recent years, under pressure to reevaluate their current use of segregation or separate confinement in correctional institutions due to increasing human rights issues, class action lawsuits, and civil claims. Rightly so, the time is here.

Minister of Justice Tracy-Anne McPhee
Our Liberal Caucus was pleased to hear that Mr. David Loukidelis is complimentary about the changes that are put forward in this Bill, and that Mr. Howard Sapers discussed the proposed changes with the Correctional Investigator of Canada, Mr. Ivan Zinger, telling him "Yukon is leading the way to correctional reforms."
In May 2018, the Whitehorse Correctional Centre inspection report done by Mr. Loukidelis recommended a clearer and more comprehensive framework for policies related to segregation. To implement these recommendations and to align correctional services in the Yukon Territory with the universally accepted Mandela Rules regarding solitary confinement, changes are required to Yukon's Corrections Act, 2009 and the regulations.
Electoral Reform
Electoral reform is an important issue to Yukoners. Our Liberal Caucus committed to strike a commission on electoral reform to consult with Yukoners on possible changes to our democratic system. We remain committed to talking to Yukoners about electoral reform, but we don't want to presuppose what changes, if any, Yukoners want. We strongly believe that this must be a non-partisan commission and we look forward to hearing from the Yukon Party and the Yukon New Democratic Party about how to move this work forward.
This week MLAs discussed a letter from Dr. Floyd McCormick, former Clerk of the Legislative Assembly, expressing concerns with the government's approach to electoral reform and potential changes. The former Clerk is entitled to his opinion, as are all Yukoners. Our Liberal Caucus appreciates the government's efforts to gain an understanding of the views of Yukoners about Yukon's democracy. We believe it is premature to discuss the process of making changes to Yukon's electoral system because at this point no changes have been proposed.
Retrofit Loan Program
As noted in the Speech from the Throne, the Yukon government will be introducing an energy retrofit loan program that will allow Yukoners to achieve increased energy-efficiency savings in private residences and commercial buildings. Our Liberal Caucus supports the government's efforts to reducing greenhouse gas emissions and mitigate climate change. We are pleased that the government is taking action to help Yukon property owners reduce their carbon footprint.
The long-term outcomes of this new program will provide benefits on many fronts: reducing our carbon footprint, reducing the cost to heat homes and buildings, and increasing the number of local retrofit jobs. Our first investments into retrofits were through government buildings. Now we are using infrastructure dollars to help municipalities and First Nations to retrofit their buildings. This next step will allow us to get at residential and commercial buildings as well. This is just one of the ways that our Liberal government is working to address climate change.

Minister of Community Services John Streicker
Infrastructure Improvements
Infrastructure is perhaps the prime responsibility of government, and our Liberal Caucus is glad to see the Yukon government pursuing two major comprehensive improvements to infrastructure in the territory.
First is improvements to the North Klondike Highway. With help from the Government of Canada, $157 million is going to improve the North Klondike Highway, with work starting in 2020.
Today, Highways and Public Works Minister Richard Mostyn was in Carcross to announce the completion of the new Nares River Bridge.
Infrastructure investments bring Yukon's communities together and help deliver Yukon's resources to market. The new bridge will meet future traffic demands along the South Klondike Highway better than the current bridge, which was built nearly 50 years ago. Working closely with the Carcross/Tagish First Nation, we ensured that this project created direct local benefits to the community.

Highways and Public Works Minister Richard Mostyn
Hats for Hope
Finally, Pauline Frost, Minister of Health and Social Services, was proud to show her government's support for the Hats for Hope project, which raises funds and awareness around brain cancer.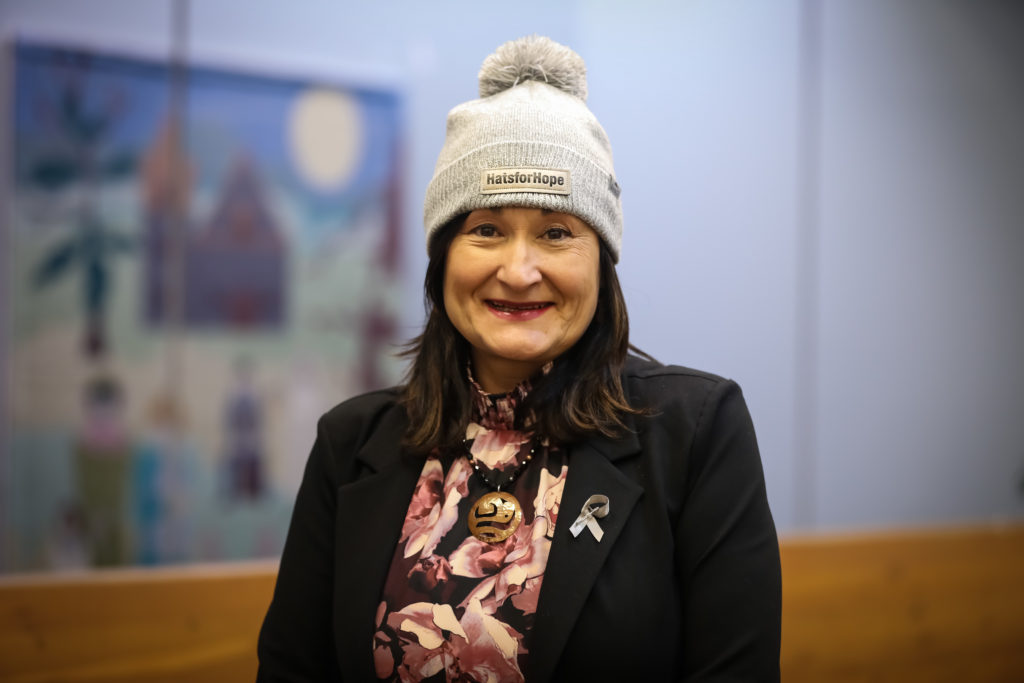 Whitehorse hosted its first annual brain tumour walk on June 15, and I had the privilege of walking with and meeting families who have been impacted or are impacted by brain tumours. It was quite an emotional day, walking and hearing their stories and just trying to imagine what it must be like to live through what they are going through. I want to just extend huge support to them as well — recognizing that we have a long way to go, but we want to ensure that we continue to provide support to all of our patients here in the Yukon. It was a huge success that day, raising $2,811 for brain tumour support programs, services, education, and research. On this day, we can show further support by wearing a hat, taking a selfie or a group photo and sharing it on social media with the hashtag #HatsForHope and tagging @BrainTumourFdn.

Minister of Health and Social Services Pauline Frost