Despite a shortened week because of Thanksgiving Day, the Legislative Assembly was as busy as ever as the Fall sitting continues. Highlights include investments in Yukon's tech sector, an update on the Peel Watershed Regional Land Use Plan, government creating opportunities for the private sector, and the one year anniversary of cannabis legalization.
Yukon's tech sector
Minister of Economic Development Ranj Pillai informed the Legislative Assembly about an exciting new investment that will support Yukon's tech and knowledge sector. The Government of Yukon is making a one-time financial contribution of $2 million to support the Yukon First Nation Investment Corporation's $5 million investment in Panache Ventures Investment Fund Limited. The Yukon First Nation Investment Corporation is a limited partnership comprised of seven Yukon First Nation development corporations: Chu Níikwän Development Corporation; Da Daghay Development Corporation; Dakwakada Capital Investments; Dena Nezziddi Development Corporation; Kluane Dana Shäw Development Corporation; Na Cho Nyäk Dun Development Corporation; and Selkirk Development Corporation. This is the first time Yukon development corporations have undertaken this type of investment. In committing to Panache's Investment Fund, they join other major investment firms like as Alberta Enterprise Corporation, Le Fonds de solidarité FTQ, the Québec government's Investissement Québec arm, Bank of Montréal, National Bank of Canada, Telus Ventures, and British Columbia's BC Tech Fund.
The Investment Fund will invest in a portfolio of approximately 100 early stage technology companies across Canada. Yukon company Proof Data Technology has already benefited from an investment by Panache Ventures that enabled it to hire additional staff, most of whom are from the Yukon. As part of this investment, Panache Ventures has committed to helping Yukon build capacity among local investors and entrepreneurs through mentorship, training support, and networking opportunities, as well as investment.
Our Liberal Caucus is pleased to see this investment, which is the latest step in a strategic effort of the government to grow Yukon's innovation and knowledge economy. This innovative investment follows the the Dempster fibre redundancy project, support of Yukon College's Innovation and Entrepreneurship (formerly Cold Climate Innovation), and support to create NorthLight Innovation, the first innovation hub north of 60.
This investment opportunity is important to Yukoners, as it will encourage private sector investment in Yukon's technology start-up ecosystem, facilitate the entry of Yukon First Nations into the knowledge sector ecosystem, strengthen entrepreneurial opportunities for First Nation development corporations, develop Yukon's investment infrastructure for the technology industry, and provide access for Yukon startups to a national network of venture capital.

Deputy Premier Ranj Pillai
Our Liberal Caucus supports closing gaps and laying a solid foundation for the success of our knowledge and innovation sector. This will help to diversify and strengthen our economy, and help Yukon communities thrive. Learn more about the Panache Ventures Investment Fund here.
Peel Watershed Regional Land Use Plan
Environment Minister Pauline Frost updated Members of the Legislative Assembly on work to implement the Peel Watershed Regional Land Use Plan. On August 22 of this year, the Yukon government, together with four First Nation partners — Tr'ondëk Hwëch'in, the First Nations of Na Cho Nyäk Dun, Vuntut Gwitchin, and the Gwich'in Tribal Council — concluded a land use planning process that started 15 years ago. Yukon government officials are now working with its First Nation partners on implementing the final approved plan. Priorities for implementation include: designating and creating management plans for special management areas and wilderness areas; assisting the establishment of national historic sites for two areas along the Peel River that are of high cultural importance to the Tetlit Gwich'in — Tshuu tr'adaojiich'uu and Teetl'it njik; recommending the prohibition of mineral staking and other resource dispositions for special management areas and renewing existing prohibition on an interim basis in the wilderness areas; designating off-road vehicle management areas through regulation; and developing a plan review process and timeline.
Finalizing the Peel Watershed Regional Land Use Plan was a major commitment of our Liberal Caucus, and we are proud to have delivered on our commitment to Yukoners.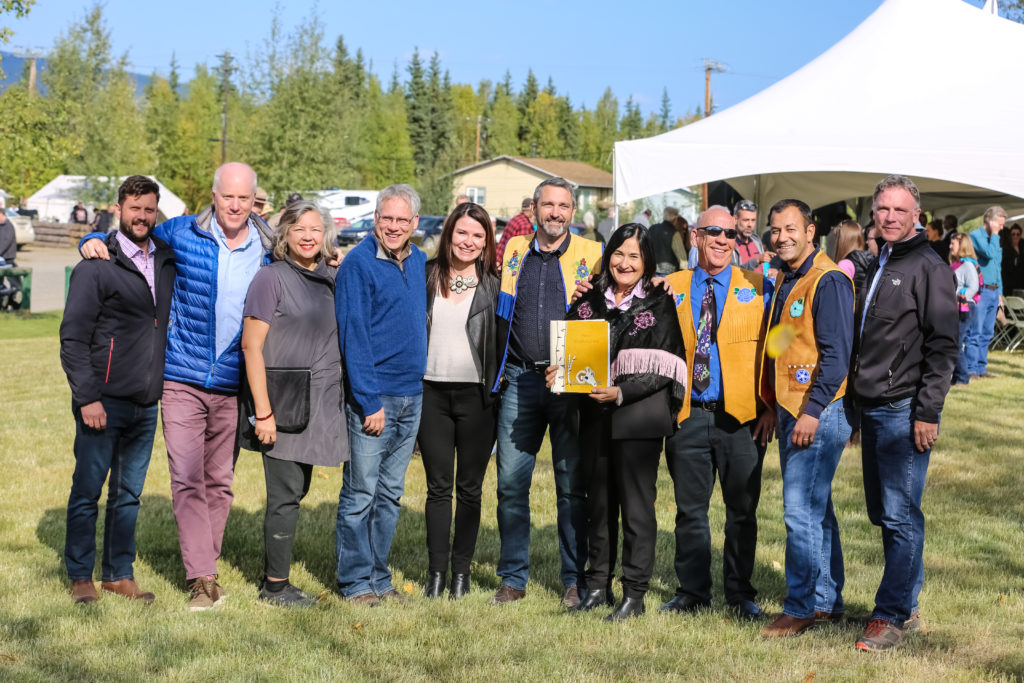 As Yukoners know, the former Yukon Party government went out of its way to avoid collaboration with First Nations and had to be told by the Supreme Court of Canada that it was not an acceptable approach. Fifteen years after the Peel land use plan process began, after five governments found common ground and agreed on a plan, it remains unclear whether the Yukon Party supports the Peel Watershed Land Use Plan. In light of the Supreme Court decision, the Official Opposition Yukon Party admitted that "mistakes were made" by the former Yukon Party government, but they have not yet elaborated on which mistakes were made and what they learned while making these mistakes. To try to get clarity on these issues, Mayo-Tatchun MLA Don Hutton brought forward a motion to debate on Wednesday:
THAT this House congratulates the Na-Cho Nyäk Dun, Tr'ondëk Hwëch'in, Vuntut Gwitchin First Nation, Gwich'in Tribal Council, and the Government of Yukon on finalizing the Peel land use plan and supports the final Peel Watershed Regional Land Use Plan.
Unfortunately, the Yukon Party wasted the entire afternoon discussing miscellaneous things, and reading old press releases and news stories with only a tenuous connection to the issues under debate. MLA Hutton succinctly summed up MLA Brad Cathers' meanderings as "nothing more than the Yukon Party's "couldn't get 'er done" list from the last 15 years".
Wasted Wednesday
It was ironic, and almost comical this week, when Yukon Party MLA Brad Cathers – who frequently accuses Yukon Liberal MLAs of wasting precious time in the Legislative Assembly – proceeded to talk for hours on Wednesday to kill time and avoid debating a motion supporting the final Peel Watershed Regional Land Use Plan.
Mayo-Tatchun MLA Don Hutton put forward a motion urging the Legislative Assembly to support the recent $157-million investment to upgrade the North Klondike Highway. Cathers couldn't resist the opportunity to delay the proceedings of the Private Members' Business day by blathering on until the end of the day, even avoiding a vote on the motion.
Our Liberal Caucus was disappointed to see the Yukon Party's delay tactics prevent the full debate of any Yukon Liberal private members' motions that afternoon. We firmly believe in the right of private members to raise issues for debate in the Legislative Assembly on behalf of their constituents, and we condemn the filibustering that prevented it from occurring. Yukoners deserve better from their elected officials. Our Liberal Caucus remains committed to representing Yukoners with integrity and respect in the Yukon Legislative Assembly.
Getting out of the business of doing business
The Yukon government is streamlining government services to support the private sector
A modernized service model will see the Queen's Printer Agency, which oversees government printing services, now focus solely on essential government materials such as budget documents. Central Stores, which is responsible for stocking and distributing the government's stationery and cleaning supplies, will shut down, allowing the private sector to meet this need for government.
Our Liberal Caucus supports this move to reduce red tape, support Yukon businesses and entrepreneurs, and save taxpayers an estimated $1.6 million each year. In it's final report, the Yukon Financial Advisory Panel highlighted the need to increase the efficiency and effectiveness of government services in order to reduce costs. This will allow government to focus on effectively providing services to citizens.
We are also very pleased that no employees will lose their jobs during this transition.
We are always looking for ways to improve service while getting the best value for dollar and supporting a strong, local economy. I am pleased the government has been able to work closely with the Yukon Employees' Union through this process. No employees will lose their jobs as we modernize service delivery.

Minister of Highways and Public Works Richard Mostyn
One year of legal cannabis
One year to the day after cannabis became legal and it opened its doors, the Cannabis Yukon retail store closed on October 17, 2019. Minister responsible for the Yukon Liquor Corporation John Streicker used the opportunity to update Yukoners on the territory's legal cannabis retail market.
The government's plan from the beginning was for the government-run retail store to be a temporary measure, providing Yukoners with access to legal, controlled cannabis while preparing for private retail. The Cannabis Licensing Board has now approved five cannabis licences, one for Dawson City, three for Whitehorse, and one for Carmacks. Three private cannabis retailers are currently open for business – two in Whitehorse and one in Dawson City. The Cannabis Licensing Board is currently in reviewing additional applications for licences in Watson Lake and Whitehorse. CannabisYukon.org will continue to offer online sales to all Yukoners as well as provide detailed product and health information. As a result, one year after the legalization of cannabis, Yukoners have access to legal cannabis no matter which community they live in and many now have a choice of cannabis retailers.
Our Liberal Caucus supports the government's priorities of displacing the illicit cannabis market and protecting the health of Yukoners, especially our youth. We are pleased to see the establishment and growth of the Yukon's private cannabis retail sector. Since legalization, a total of $4.6 million worth of cannabis has been sold in the Yukon, contributing to the displacement of the territory's illicit market. Now that edibles, extracts and topicals are legalized in Canada, we look forward to the continued growth of Yukon's cannabis sector.
Our Liberal Caucus commends the government on fulfilling its commitment to close the temporary government retail store and supporting private retail cannabis sector.