This week in the House, MLA Ted Adel gave tribute to Movember. Ted experienced his first clean-shaven day in over 45 years on Tuesday, all to raise funds for this important cause!
You can learn more about Movember here.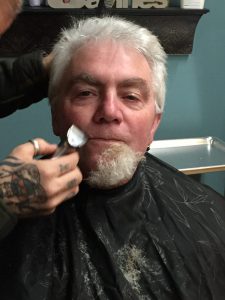 Tribute to Movember
Mr. Speaker, I rise today, clean-shaven for the first time in over 45 years, to pay tribute to the men's movement of Movember on behalf of the Yukon Liberal government, the Official Opposition and the Third Party. I am starting in mid-month to give everybody else a chance to catch up. Hair grows fast. Movember is an important health movement that raises awareness and funding for men's health issues, including prostate and testicular cancer, mental health and suicide prevention. I would like to start with some facts.
First, studies show that women are three times more likely to visit a doctor regularly than men are. This is greatly concerning because early detection has an impact on remission and survival rates for cancer. Second, in the western world, males die three to four times more often by suicide than do females. Prevention, education and reducing the stigma around mental health are critical to addressing these rates.
Mr. Speaker, in 2003, two mates from Melbourne, Australia, Travis Garone and Luke Slattery, met at the Gypsy Bar in Fitzroy. It was at this meeting that they brainstormed ideas for addressing men's health issues, setting the framework for Movember. I mean, it really sounds like the start of a bad joke, but it wasn't. Travis and Luke sent an e-mail with the subject heading, "Are you man enough to be my man?" to 30 of their friends, asking them to donate $10 each to grow a moustache — and Movember was born.
Men grew moustaches with such enthusiasm that, in 2004, a decision was made to formalize the concept to get participants around the world growing for a good cause. Since then, Mr. Speaker, the focus of worldwide Movember campaigns has expanded to include official campaigns being held in 21 countries, the proceeds of which bring funding to over 1,000 men's health programs. Movember is an important initiative indeed and I am proud to have the opportunity to stand in the House today and publicize its significance to all of us.
Mr. Speaker, significant health issues are causing many men to die too young. With the support of millions of Movember brothers and sisters from around the world, this campaign is one that positively and directly impacts men's health.
The Movember Foundation has made huge progress in changing the way men's health is November 14, 2017 HANSARD 1611 talked about. We need to talk to our partners, our parents, our children, and our friends about getting screened regularly for cancer; about seeking help for mental health issues and perhaps most of all, we need to take responsibility for our own health — out of taking responsibility for ourselves and out of the love we have for our families and our friends.
Movember is a fun way to get people talking about men's health and to take action against the stoic culture of silence around men's health issues. So have some fun with this campaign; I know I am. Take it to heart — the good work that is being done— and donate for yourself and others. The work has only just begun. Thank you, Mr. Speaker