WHITEHORSE – After Pierre Poilievre's climate change denialism rally in Whitehorse was postponed due to climate change-caused wildfires in neighbouring provinces and territories, the Yukon Liberal Caucus is urging former Yukon Party Environment Minister and current party leader Currie Dixon and his caucus colleagues to break away from their federal counterparts and acknowledge the reality of human-caused climate change and recognize that the costs of inaction far outweigh any perceived benefits.
At previous "Axe the Tax" rallies held across Canada, Pierre Poilievre has said that if he were Prime Minister, he would end Canada's carbon pollution pricing system. Currie Dixon and the Yukon Party Caucus have eagerly followed along, issuing news release after news release about their opposition to a putting a price on carbon and to the introduction of clean fuel standards.
Yukon Party Caucus member Yvonne Clarke even promoted Poilievre's climate change denialism rally on her MLA Facebook page.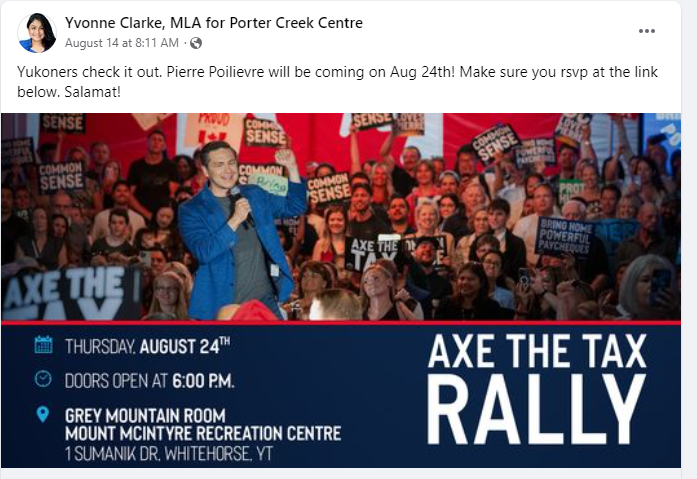 "Unfortunately for Pierre Poilievre, Currie Dixon, and their fellow Conservatives, Yukoners are well aware that climate change is real. They understand that extreme weather events, brought about by climate change, put their lives and livelihoods at risk. It's also clear to them that big multinational corporations shouldn't profit from harming our planet," stated Whitehorse West MLA Richard Mostyn, who is also the minister in charge of the territory's emergency preparedness. Mostyn further pointed out: "Both the Yukon Party and the Conservative Party of Canada are aligned in their stance to ignore the suffering caused by climate change, all while making it easier for those profiting from environmental harm to get richer."
"Earlier this year, we witnessed significant flooding in the Klondike region. Yukon residents from Old Crow and the Village of Mayo have recently returned to their homes following evacuations caused by wildfires. People all across the territory are providing support to people fleeing wildfires in British Columbia and the Northwest Territories," said Environment Minister Nils Clarke, MLA for Riverdale North. "Despite these challenges, Currie Dixon and the Yukon Party are actively endorsing Pierre Poilievre's denial of climate change. Yukoners deserve clarity on Currie Dixon's perspective on climate change. They want to know whether he believes it's acceptable for a few big businesses to put profits over people and our planet. Furthermore, it's important for all of us to understand if Currie Dixon and the Yukon Party will take a stand against their federal counterparts, and make it clear that climate change denialism has no place in the Yukon," Clarke concluded.