The fall sitting of the third session of the 34th Legislative Assembly is close to wrapping up, and not without some major actions to move Yukon forward as a territory. Read on to see what your Liberal Caucus has been up to…
Supporting CBC Yukon
An announcement early this week by CBC headquarters to merge their morning northern news broadcasts into one pan-territorial broadcast based out of Yellowknife threw the internet and northern communities into uproar. Many feared the loss of local programming would lead to the further erosion of community and Yukon news and updates.
Premier Sandy Silver asked the Premiers of NWT and Nunavut to sign a letter to the President and CEO of CBC urging the broadcaster to reverse the decision. Our Liberal Caucus was thrilled to see CBC listen to those and other voices, as the broadcaster announced that it would cancel those plans less than 24 hours after making them.
Our Liberal Caucus supports a diverse and healthy local media landscape, and we are grateful the CBC will continue to provide Yukon news on those cold drives in during the morning.
Throughout the decade, CBC Yukon has a steady, strong voice through times of terror, times of tragedy, but also times of wonder. When a comet streaks across Yukon skies leaving a dazzling trail of light in its wake, we turn on the radio to find out what just happened. When an earthquake shook us all out of bed — or out of a shower, in my case — in the early mornings, it was local reporter Sandi Coleman who advised us from beneath our desks about this news and also the risk of aftershocks and what to do. When Yukon First Nations settled their land claim agreements, when the Supreme Court of Canada ruled in favour of Yukon First Nations in the fight to protect the Peel watershed — these are the stories that CBC Yukon stood beside us for, and we need to stand for them now.

Premier Sandy Silver
Renewable electricity panel to inform climate change strategy
This week, a renewable electricity panel of experts held public meetings to discuss the challenges and opportunities around renewable energy in the Yukon and gather perspectives from Yukoners on Yukon's energy future.
The panel was made up of Ravi Seethapathy, executive chairman of Biorsirus Inc.; Dr. Michael Ross, the National Sciences and Engineering Research Council of Canada Industrial Research Chair in Northern Innovation at the Yukon Research Centre; Chris Henderson, Canada's pre-eminent clean energy advisor to aboriginal communities; and John Maissan, a renewable energy consultant who previously worked for 14 years at the Yukon Energy Corporation.
After taking questions from the public and discussing ideas all week, the panel will be producing a report based on the conversations, which will be used to inform the Yukon government's final climate change, energy and green economy strategy, plus Yukon Energy Corporation's renewable electricity plan.
Yukoners are passionate and engaged when it comes to energy, particularly in how we generate electricity. We are excited to see what these conversations bring, and we look forward to the insight that the whole energy group gains from this process.

Minister Ranj Pillai
Read the draft climate change, energy and green economy strategy for Yukon here.
Women Entrepreneurship Knowledge Hub opens in Whitehorse
Minister Jeanie Dendys was on hand at NorthLight Innovation Hub to announce the opening of the Women Entrepreneurship Knowledge Hub (or WEK) in Whitehorse this week.
This week's launch of the Women Entrepreneurship Knowledge Hub is a significant and needed addition to our entrepreneurial ecosystem, an addition that will foster the growth and development of Yukon's women entrepreneurs. The partnership between Yukon College, Ryerson University and eight other leading Canadian organizations will support Yukon's growing number of women entrepreneurs. The hub will support new entrepreneurs entering the business world and help advance entrepreneurs throughout Yukon's innovation ecosystem.

Minister Jeanie Dendys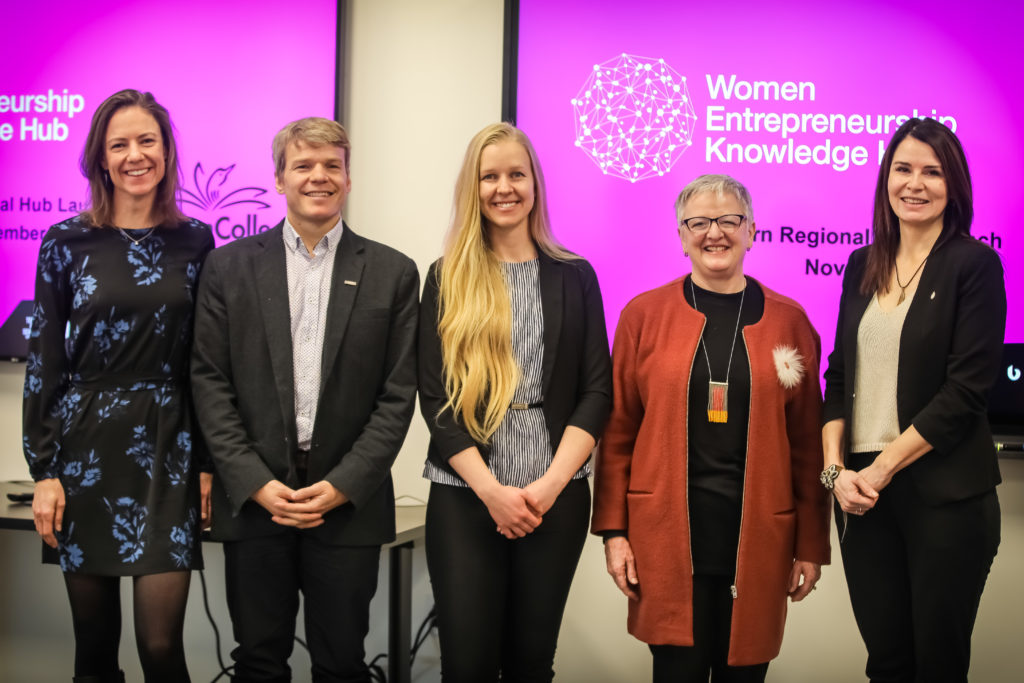 Yukon University one step closer
Members of the Legislative Assembly voted unanimously to pass third reading of the Yukon University Act. Once assented to, the legislation will provide the legal framework for Yukon College to become Yukon University – the first Canadian university in the North. Our Liberal Caucus is proud of this long-awaited development and we look forward to the launch of Yukon University in 2020.
Remembering Shawn Kitchen and Julia Lane
Minister Ranj Pillai delivered tributes in the Legislative Assembly to both Shawn Kitchen and Julia Lane, whose lives were tragically cut short in a plane crash in Yukon this past summer.
Shawn Kitchen, son of Barry and Wendy Kitchen and brother to Evelynn, was very dear to the Yukon and to all those who knew him. Shawn was a dedicated aviator. He began working on his personal pilot's licence while in high school at F.H. Collins and then went on to Okanagan College to get his diploma in commercial aviation.

Upon completing his schooling, Shawn came back to the Yukon to work and had worked at Alkan Air for the past four years. Shawn's first job at Alkan Air was as a dispatcher. He then worked as ramp support while he built the flying hours he needed to become a first officer, flying medevacs in the Yukon and beyond. Shawn became interested in bush flying, and soon after, he started flying into some of the most remote strips around the Yukon.

Shawn had a passion for the performing arts. We will remember him for his work and his contributions to Whitehorse's theatre community. Shawn was well-known for his roles in Pirates of Penzance and Cats as part of Wood Street Centre's Music, Arts, and Drama program. Shawn was an energetic member of the cast and stage crew of the Frantic Follies for several years, where he made frequent appearances as Sam McGee. His outstanding performances left incredible impressions on his teachers, fellow students, community, friends, and family.

At only 24 years old, Shawn was committed and enthusiastic about everything that he did. He had strong community values and was passionate about giving back to the youth of the Yukon. At the age of eight, Shawn became a Cub. As he got older, he became a Scout, Venturer, and Rover. Through Scouts Canada, Shawn travelled around the world, including spending a bit of time in Madagascar helping to build a school. It was important to Shawn that youth have a voice in programs geared for youth. Within Scouts Yukon, Shawn took on leadership roles, including assistant Cub leader, area youth commissioner, and most recently, area commissioner.

Shawn had incredible people skills with an ability to connect with all of those around him, from young Cubs to senior business executives. Shawn had an adventurous spirit that took him around the world and around the Yukon. You would frequently find him hiking along one of the many trails in the Yukon, often with his camera in hand. He was known to be exceptionally down to earth and caring, which are merits in their own right. Shawn Kitchen's unforgettable warmth and passion are dearly missed by all.

Minister Ranj Pillai
Julia was a graduate of the University of British Columbia and a registered professional geologist in BC. Julia will be remembered for the key role she played in the discovery of Canada's first Carlin-style gold deposits, which are among the largest gold deposits in the world. Julia helped to lead both the technical team that demonstrated that gold in the Rackla belt was analogous to that in Nevada's Carlin Trend and the business team that attracted companies like Barrick Gold Corporation and Newmont Mining Corporation to the territory.

She had a unique ability to manage large drill projects, juggling the needs of 70-plus employees, dealing with complex logistics, and overseeing the technical requirements of the work to meet a high professional standard. Even with such pressure, she always remained cool and she was adored by everyone working at her camp. Julia's passion for geology extended beyond exploration and discovery. She was a great supporter of research and she generously provided access to the property to facilitate geologic studies. This included support for the Yukon Geological Survey that mapped the Rackla belt and surrounding area between 2010 and 2014.

Our survey's work was greatly facilitated by Julia's willingness to provide access to her camps and logistical base and to share company data. She extended similar support and enthusiasm to the university researchers from the University of British Columbia, Harvard, McGill, and Dartmouth universities, among others. She also gained international attention for her written papers and conference presentations. With every conference presentation that Julia made, she attracted the attention of audiences with her technical knowledge and her infectious enthusiasm. At only 33 years old, Julia had already made exceptional contributions to the field of geology and to Yukon's exploration sector.

This is the second time that I have had the opportunity to tribute her here in the Legislative Assembly. During this year's Geoscience Forum — where Julia's absence was acutely felt — I wanted to honour her. Julia Lane was so young and so esteemed in the community. She is certainly missed by all. Mr. Speaker, in closing, there are three lessons that I've learned while preparing for these tributes: There's always time for the people closest to you — no matter what your job is and what your responsibilities are; your age does not matter when you unconditionally give, because the impact can be so positive; and, in closing, the little things in life matter more than the big things.

Minister Ranj Pillai
Julia Lane was also recognized posthumously with the Kate Carmack Women in Mining 2019 award.
Our Liberal Caucus extends our sincere condolences to the families and friends of Shawn and Julia.
Take Action on Radon Campaign
As November is Radon Action Month in Canada, Minister of Health and Social Services Pauline Frost announced the Take Action on Radon Campaign 2019.
Radon exposure is the second-leading cause of lung cancer after cigarette smoking. Health Canada guidelines suggest limiting radon levels to under 200 Bequerels per cubic metre.
In Whitehorse, radon test kits are on sale at Home Hardware with a subsidy from the Yukon Lung Association. In other communities, a limited number of test kits are available at Yukon Housing Corporation offices.
Radon gas can be present in any home in any community in Yukon. The only way to know if there is radon in your house is to test for it, so I encourage all Yukoners to test their home.

Minister of Health and Social Services Pauline Frost
BAH Humbug
Finally, members of our Liberal Caucus wrapped up their Thursday after the Legislative Assembly by participating in the opening of this year's Festival of Trees during the Whitehorse Chamber of Commerce's Business After Hours event. Premier Sandy Silver took the microphone to make a few remarks on the importance of the event.