Dear Yukoners,
We hope this message finds you enjoying the endless light of our beautiful Yukon summer with family and friends. The spring session of the Legislative Assembly was very successful, and our Liberal caucus is writing to share the highlights and progress of our work. The government passed the 2017/18 Budget, focused on making Yukoners' lives better. This budget is built upon the four enduring priorities of our caucus: a diverse, growing economy that provides good jobs for Yukoners; strong government-to-government relationships; strategic investment for the health of communities; and a people-centered approach to wellness.
Our Liberal caucus is proud to be delivering on our commitments. Our caucus has worked hard to see important legislation passed to protect transgender rights, make National Aboriginal Day a statutory holiday, and reduce tax rates for Yukon businesses. Our caucus recently held the second Yukon Forum meeting of the year with Yukon First Nation Chiefs, with a third meeting planned for early in the fall. Please read on for further details on the work of our caucus and highlights from this year's budget.
This summer your MLA will be out and about in your community, please reach out to our caucus with any questions or concerns you may have. Our Liberal caucus wants to hear from you.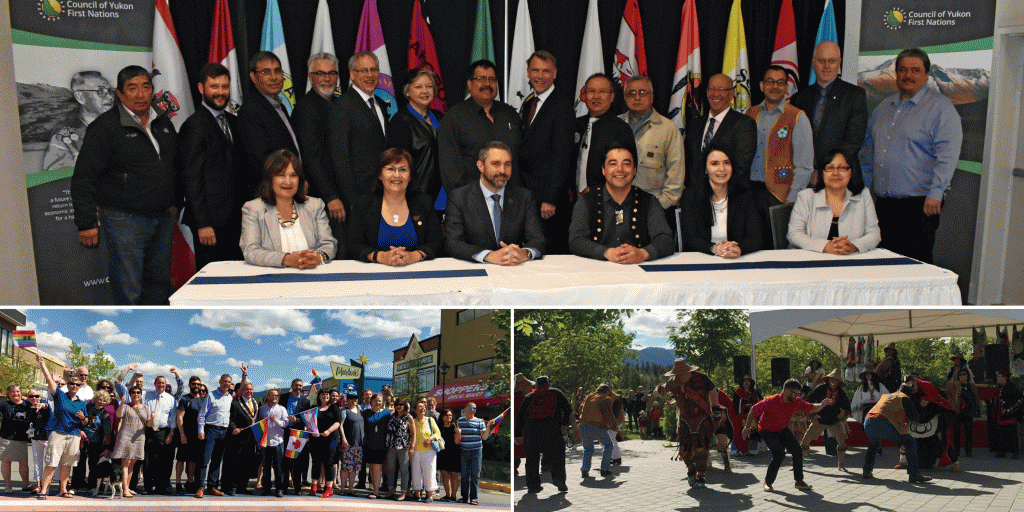 Highlights & Progress
Passed the 2017/18 budget to improve Yukoners' lives.
Protecting transgender and gender-diverse Yukoners from discrimination with Bill 5.
Achieved commitment: National Aboriginal Day, June 21st, is now a statutory holiday.
Lowered tax rates for Yukon small businesses.
Held the second Yukon Forum meeting of the year.
Allocated $8 million for the planning and design of the new French First Language high school.
National Aboriginal Day is now a statutory holiday!
The first law our caucus passed was the National Aboriginal Day Act, making National Aboriginal Day, June 21st, a statutory holiday. This important commitment was a priority for our caucus. Honouring and celebrating First Nation knowledge, language and culture is central to a modern Yukon, and we are proud to take this step together as a territory.
Protecting the rights of LGBTQ2 Yukoners
All Yukoners deserve to live free from discrimination. Our caucus was proud to pass a bill that will protect transgender and other gender-diverse Yukoners from discrimination. The Liberal caucus is committed to building healthy communities by improving the well-being and quality of life for all Yukoners. This is integral to the success of our territory.
"All Yukoners deserve to be treated equally. The passing of this important bill ensures that LGBTQ2 Yukoners have the rights they deserve." –Pauline Frost, MLA for Vuntut Gwitchin
Increased funding for mental wellness workers
This spring the government announced $1.49 million in the 2017/18 Budget to support 11 new full-time addictions and mental wellness workers in 8 communities across the Yukon. Our caucus is committed to improving the provision of mental wellness services in Yukon communities.
Supporting Yukon Businesses through lower tax rates
Our caucus was proud to achieve an important caucus commitment this spring by lowering the small business tax rate from 3 per cent to 2 per cent, and the general corporate tax rate from 15 per cent to 12 per cent. Our caucus looks forward to continuing the conversation on how we can support Yukon's small businesses.
Get involved in the conversation about Yukon's financial future
The Yukon government wants to hear from you. A Financial Advisory Panel has been assembled to provide options for future financial planning. A series of community meetings will be held this fall, where your input and feedback will help root the Panel in the values and priorities of Yukoners. Learn more & have your say: www.yukonplans.ca.
Joint Priorities decided at the second Yukon Forum meeting
The second Yukon Forum meeting of the year was held between our caucus and Yukon First Nation Chiefs this May. During the meeting we committed to collaborate on a number of shared priorities: infrastructure funding; cooperation on justice, education, health, and heritage initiatives; and the implementation of land claim and self-government agreements. These priorities are of great importance and will guide our work together to bring tangible benefits to all Yukoners. Two more Yukon Forum meetings will take place before the end of the year, fulfilling the commitment of our caucus to hold the Yukon Forum 4 times annually.
Investing in Education
The 2017/18 Budget has added $4 million for frontline teaching staff. The initial allocation of Educational Assistants is 210 for the 2017/18 school year, but more EAs will be assigned as needed if enrollment or assessment changes over the summer. Educational Assistants are a valuable resource and our Liberal caucus is committed to meeting the needs of all Yukon students.
Listening to Yukoners on Carbon Pricing
The federal government is planning to conduct a study on the impacts carbon pricing may have on the northern economy and vulnerable groups. We expect this study to take place over the summer and as soon as we have more information from the federal government, we will share that with Yukoners.
In the coming months, we will be looking to Yukoners for feedback on how the funds from the federal carbon pricing mechanism should be returned to Yukoners.
Commitment to our environment
Our caucus remains committed to protecting our environment through a moratorium on fracking in the Yukon. After the Supreme Court makes its decision on the Peel case, our caucus has also committed to collaborate with Yukon First Nations on steps towards accepting the final report of the original Peel Watershed Planning Commission, moving us forward together. In his role as Premier, MLA for Klondike Sandy Silver recently travelled to Washington to reinforce our support for protecting the Arctic National Wildlife Refuge.